University of Florida
Located in beautiful Gainesville, FL, the University of Florida is my beloved alma mater. There are so many wonderful and iconic scenes to capture on campus. If you are a Gator Alumni then you will surely recognize and get nostalgic about many of the images in this category. Of course, I am capturing the University of Florida with my own unique Infrared artistic perspective and composition. Thus, unlike the common commercial full-color images available at souvenir shops, my wonderous Infrared art photos will suit any decor with their inherent elegant and ethereal appeal.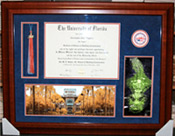 Also, my UF images make for a great addition with your diploma. Contact me for details.